Maxims Club Casino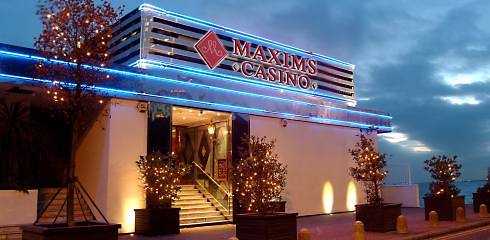 There are so many casinos dotted around London that, if you're only in the city long enough to get in a single gaming session, you'll want to think long and hard about which is where to play.
If that's the case for you, though, there is one establishment which we highly recommend you visit: Maxims Club Casino.
History
The building which houses the Maxims Club Casino has roots traceable back to 1826, and was once the home to a close friend of Charles Dickens. The casino has retained many unique original features of the imposing yet beautiful original construction.
The current owners of Maxims have been in the gaming industry for many years now; based on its solid and reliable pedigree, we are delighted to introduce you to this land-based casino.
Location
Hardly tucked away on a side street, Maxims Club Casino is very easy to find. The full postal address is Maxims Casino Club, Palace Gate House, 1a Palace Gate, Kensington, London. If you're driving and would like your Sat Nav to bring you directly to the door, then type in the postal code W8 5LS.
Games Offered
American Roulette – Playing American Roulette is a roller coaster ride like no other game—so of course, Maxims has plenty of open tables ready and waiting! You can choose to play at stake levels that suit your pocket, and a thrill per minute is always guaranteed.
Blackjack – Many land-based casinos offer a plentiful array of Blackjack games—but very few can compare to the low house edge at Maxims. Players warm instantly to their very liberal, player-friendly Blackjack tables.
Three Card Poker – You also have the option of changing up your usual rotation of card and table games at Maxims. Head on over to play the hugely popular, relatively simple-to-learn game of Three Card Poker: you'll find it a very welcome diversion.
Baccarat – No premier land-based UK casino would be complete without offering the popular card game Baccarat. As you would expect, Maxims Casino does indeed feature the game, with both low and high stake levels available, to suit all players' budgets.
Poker – Poker is also available at Maxim's Casino. We always recommend that players planning a visit to any land-based casino contact the casino directly, or visit its website, for details on all of their upcoming tournaments, and plan their trip accordingly.
Slots – At Maxims, the suite of gaming machines offers a huge array of different choices for guests, with many different styles of slot games available—and featuring some of the highest payout percentages in the industry, to boot!
Dining Possibilities
Dining at Maxims is an absolute pleasure. The Dining Room offers a close yet airy atmosphere, and tony, high-quality decor. There is a four-course set menu available for £30, as well as European, Indian, Lebanese and Thai options to choose from.
The beauty of the menu is that it offers something for everyone, no matter your taste. The bar also provides cold beers, aired red wines and crisp white wines, alongside a wide range of the finest spirits and cocktails. Should you wish to splash out on the perfect champagne to enjoy with dinner, you'll find it ready and waiting.
Should you not wish to drink any alcohol (always a good policy when gambling!), a variety of non-alcoholic cocktails and soft drinks is always available as well.